Setting Up Folders To Sort Replies
If you use a LeadGnome email connector to process your replies, you can create rules to sort the replies into folders. This feature cleans up your mailbox and highlights important replies so you can action on them efficiently. For example, SPAM Defender auto-responses require manual processing. LeadGnome will move these into a separate folder so you can go through them quickly and efficiently.
Create Default Folders Automatically (AUTOCREATE)
Navigate to ACCOUNT > Connected Mailboxes.


Check the box on left hand side of the connector you want to configure.
Click the

AUTOCREATE

button to automatically create the following folders/labels and the rules to use them.
Sales Rules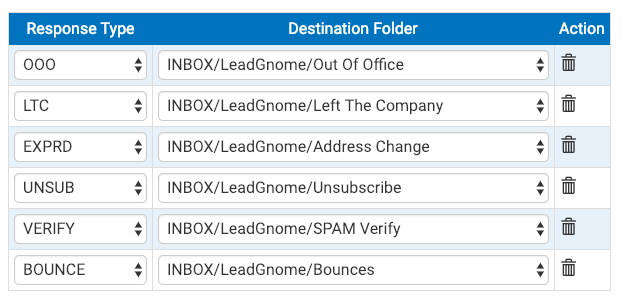 Marketing Rules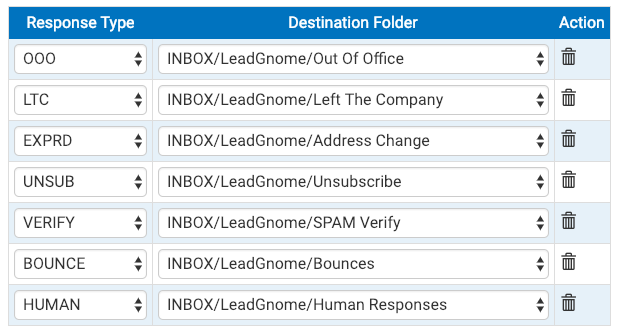 Sales users will not have a Human Responses folder because human responses are left in the salesperson's Inbox.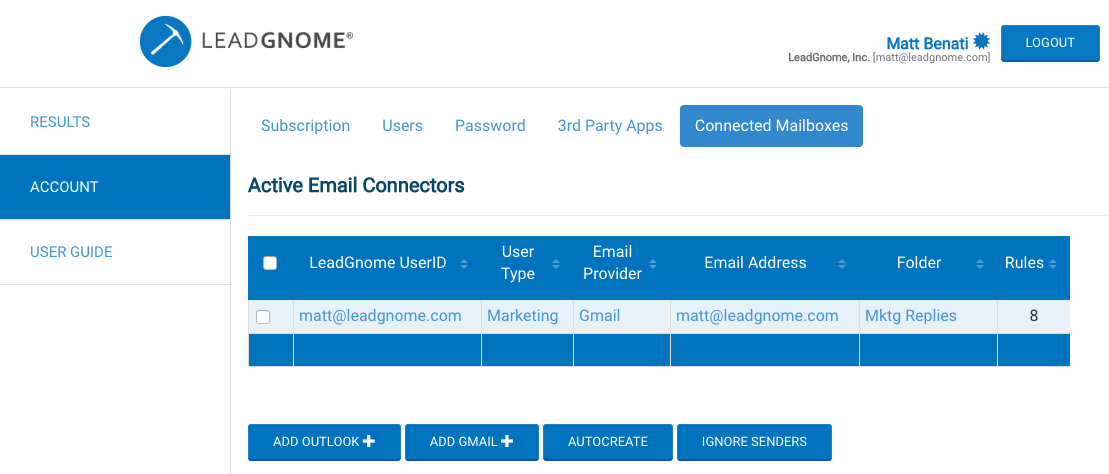 Congratulations! You have created rules that will keep your mailbox clean.
Create/Modify Folders Manually
Navigate to ACCOUNT > Connected Mailboxes


Click on the Email Address in the Active Email Connectors table that you want to configure. This brings you to the Edit Connector page.


Click the 

ADDRULE

 button to create a new rule.
For each rule, set the Response Type and Destination Folder using the pulldown menus.






The Destination Folder pulldown will only show Outlook folders or Gmail labels that already exist in the connected mailbox.

If you create a rule with Response Type "ANY", it will be applied only after checking all other rules.

Caution: The ANY rule will move all other emails and replies to the folder you choose. This completes the clean up of a mailbox, but also tends to "hide" emails from your view. Use this rule with caution.

To delete a rule from the list, click on the trashcan icon in the Action column.
When the rules list is configured to your satisfaction, click the 

SAVE

 button.
Congratulations! You have successfully modified your rules to sort email replies.
Reply Sorter rules can only be used with connectors (i.e., if you are using a forwarding rule, this feature is not available).
---
---